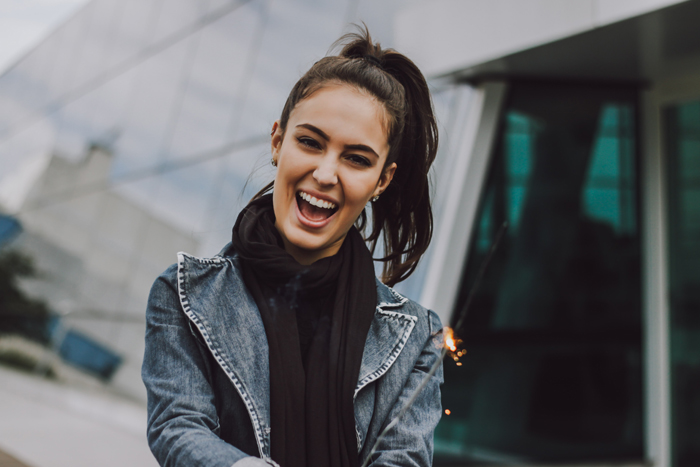 What do Morgan Fairchild, Owen and Luke Wilson, and Usher have in common? They're all superstars with superb smiles, and they're all from Big D: Dallas, Texas. While you may never become a Hollywood star or music legend, you can enjoy having a smile as big and bright as the stars at night, deep in the heart of Dallas.
As Dallas dentists, Drs. Sigurdson and Patel provide excellent, affordable dentistry and the latest technology, treatments, and comforts at Lakewood Dental Group. If you want a new Dallas dentist or you'd like to explore cosmetic dentistry, implants, or Invisalign clear braces, give us a call today.
Now let's find out how big-name stars get those stellar smiles. Here's a secret: they don't all have great genes!
Cosmetic Dentistry
Remember the reality TV show called Extreme Makeover? It aired on ABC from the end of 2002 to mid-2007. During the show's heyday and for years after it went off the air, a cosmetic dentistry craze swept across America.
People learned just how amazing smile makeovers could make them look: younger, healthier, more attractive, and, according to a poll by the American Academy of Cosmetic Dentistry, more intelligent, friendly, and wealthy. All of this, without plastic surgery!
Today, you have access to treatments that can deliver whiter, straighter, shapelier teeth for an unforgettable smile. Dallas dentists Drs. Sigurdson and Patel offer the latest in:
Teeth whitening
White crowns
White fillings
Porcelain Veneers
Bonding
Contouring
Teeth replacement
Clear braces
Dental Implants
Tooth loss can happen as a result of injury, poor oral health, or serious illness. While the chance of losing a tooth increases with age, anyone who loses one tooth and doesn't have it replaced runs an increased risk of losing more teeth.
If you need tooth replacement, but the idea of a traditional bridge or partial denture is unappealing, talk with our Dallas dentists about implants. Modern dental implants are durable and have a 98% success rate, which is an awesome statistic. Implants can replace single teeth or hold a bridge, partial, or denture securely in place.
Additionally, dental implants stimulate the jawbone, reducing the potential for bone degeneration that often causes facial collapse. This phenomenon occurs when the mandible, or lower jawbone, deteriorates so that the distance between the ears and chin decreases. The result is an aged appearance, and who wants that?
Invisalign Clear Braces
Want to look like a middle schooler for two years? Thank goodness you don't have to!
You no longer need to wear bulky, obvious, metal braces for straighter teeth. Invisalign clear braces straighten teeth incrementally over six to 18 months by way of removable, clear acrylic aligners. Few people, if any, will notice the aligners, and you can remove them for special occasions, like speaking engagements, special events, and photographs.
Schedule Your Consult with the Dallas Dentists at Lakewood Dental Group
Want to learn how cosmetic dentistry, dental implants, or Invisalign can improve your appearance and self-confidence? Call us today at 214-827-1885 and reserve your cosmetic consultation with Dr. Sigurdson or Patel.